2006 Itasca Navion 23H -
Stock# 12083B
Floor Plans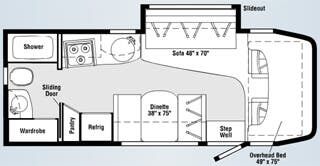 T08: Summer Breeze/Honey Cherry
15T: Rear Air Springs
23T: Heated Drainage System
27G: Graphics- Storm Gray W/Orange
29B: Water Purifier
48E: Bath Power Ventilator
52F: Patio Awning
52G: 3.6KW Onan LP Microquiet Generator
53B: 6 Gal. Electric/LP Gas Water Heater
64R: Exterior Wash Station
70C: Satellite Radio
74J: Rearview Monitor System W/Audio
75Y: Applique Instrument Panel
Generator Hours: 21
SPECIFICATIONS
EXTERIOR LENGTH: 24′ 2″
EXTERIOR WIDTH: 7′ 6″
EXTERIOR HEIGHT: 10′ 9″
INTERIOR HEIGHT: 6′ 8″
INTERIOR WIDTH: 7′ 3″
FRESH WATER: 34 gal.
BLACK WATER: 33 gal.
GRAY WATER: 32 gal.
GCWR: 13,700
GVWR: 10,200
WHEELBASE: 159″
LP CAPACITY: 18
Automotive/Chassis
Dodge® Sprinter Chassis – 2.7L CDI 5-cylinder, turbo-diesel, 154-hp, automatic 5-speed transmission w/tip shift, 4-wheel ABS w/skid control, 150-amp. alternator, dual rear wheels, Trailer Hitch5 3,500-lb. drawbar/350 lb. maximum vertical tongue weight & 6-pin wiring connector, Wheelcovers 16″ (4)
Cab Area and Driver Conveniences
Beverage Holders, Cab Seats (Fabric) armrest, adjustable lumbar support, adjustable headrest, multi-adjustable slide/recline, Cruise Control, Curtain cab divider, Document Clip, Floor Mat 1-piece carpet, fitted, Power Door Locks w/remote control, driver/passenger/main entry, Power Cab Windows, Powerpoint 12-volt DC/cigarette lighter, Sunvisors, Temperature outside gauge, Trim Panels driver & passenger doors, Windshield Wipers intermittent
Entertainment
Radio (Cab) AM/FM/Stereo/CD player/remote/speakers (2) cab, (2) coach, (1) subwoofer, Clarion®, Radio Power Switch main/auxiliary battery, Satellite System Ready, TV Antenna (Amplified) interior jack, coax wiring, cable input, DVD Player w/remote, Audiovox®, TV 14″ LCD w/remote
Interior
Bunk front overhead w/hinged 1-piece mattress, bunk ladder, privacy curtain, windows, storage trays, light, Ceiling fabric, Countertops laminate, Lights halogen, Lights ceiling, incandescent w/wall switches, Light stepwell, Mini Blinds (galley & bath), Skylight w/bar/handle, sliding screen, sliding pleated shade, Shades day/night pleated (lounge & dinette), 12-volt DC Powerpoint, Windows tinted.
Furniture
Dinette w/interior & exterior access to storage below front seat, Sofa w/access to storage below, throw pillow.
Galley
Faucet dual-control, Microwave/Convection Oven, Range Top 3-burner, drawer below (NA 23B), Range Hood vented w/light & fan, Receptacle AC duplex, Refrigerator/Freezer large double-door (single-door 23B), Norcold®, Sink single-bowl, stainless steel, round w/cutting-board sink cover, Pantry.
Bath
Cabinet lavatory, Cabinet medicine w/mirrored door (NA 23B), Faucet lavatory dual-control, Faucet (Shower) dual-control w/flexible showerhead, Light shower, Roof Vent powered, Shower Door retractable, Sink round, stainless steel, Skylight.
Exterior
Awning Rail w/rain gutter, Bumpers front w/step grooves & rear, Door entrance w/separate screen door, deadbolt lock, remote keyless entry, Entrance Door Steps double, electric w/door-jamb switch, Ladder hinged, folding, extension, Light porch w/interior switch, Mirrors electric remote w/defrost, folding extended arms, Mudflaps front & rear, Pullout Storage Drawer w/sealed lid, Receptacle AC duplex, Sidewall Skin 1-piece, high-gloss, smooth fiberglass, Storage Compartments w/bottom trunk liner.
Systems
HEATING/AC – Automotive Heater/Air Conditioner blend air system, Air Conditioner (Roof) 13,500 BTU, ceiling-duced w/wall thermostat, Furnace 25,000 BTU, (23H & 23J ducted in floor, 23B ducted above floor), ELECTRICAL- Auxiliary Start Circuit, Batteries (Coach) (2) Group 24 deep-cycle, Battery (Coach) disconnect system, Dual Battery charge control (automatic), Electrical Distribution System AC breaker panel, DC automotive-style fuses, 45-amp. converter/charger, Generator Prep Kit, Monitor Panel battery condition gauge, generator hourmeter gauge, generator start/stop switch, holding tank levels, LP tank level, water heater lights, water heater switch, water pump switch, water tank level, Power Cord 30-amp., Service Center (Electrical) cable input, power cord, portable satellite dish hookup, QuickPort® service connection hatch, PLUMBING – Drain water tank, 1″, Service Compartment (Drainage/Water) city water hookup/tank diverter fill, drainage valves, 10′ sewer hose, Tank LP, permanent mount w/gauge, TrueLevel™ Holding Tank Monitoring System, Water Heater 6-gallon electronic ignition, LP gas, Water System Winterization Package water heater bypass valve & siphon tube, Water Pump demand.
Safety
Airbags driver & passenger, Assist Bar interior, Detectors/Alarms LP leak, smoke, carbon monoxide, Fire Extinguisher 10 BC, Ground Fault Interrupter, Lamps daytime running, fog, Lights high-mount brakelamp, Seat Belts cab, 3-point, adjustable, Seat Belts lap (in selected areas), Window escape.
THE LISTED ITEMS ARE STANDARD ON THIS MODEL AT NO EXTRA CHARGE UNLESS REPLACED BY OPTIONAL EQUIPMENT.