2019 Roadtrek ZION 3500 Extended -
Stock# 11930
2019 Roadtrek ZION 3500 Extended
Floor Plans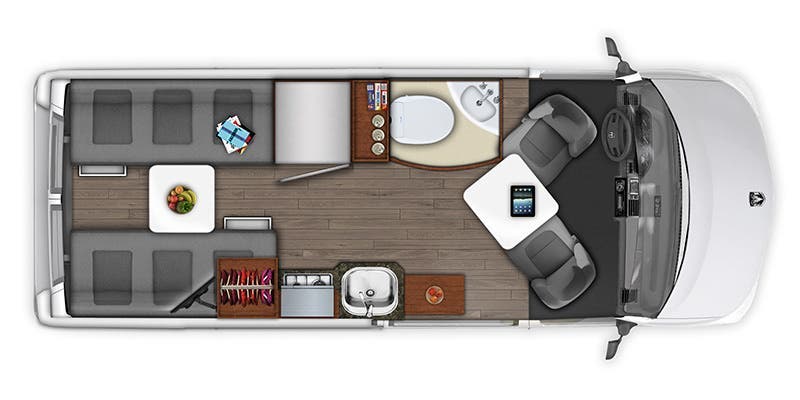 Standard Features & Optional Features:
Silver Metallic Exterior
Ebony Cabinetry With Cloth Seating
EcoTrek 400 Lithium Power Modules
Solar Panel 300W & Charge Controller
Underhood Generator (12V, 280 AMPS)
Volt Start
Power Steps
Convenient Screen Package
24″ LED TV with Blue Ray Player
Composite Leather Front Swiveling Seats
Side Facing Rear Power Sofa
Single Folding Mattress – Across Front Seats (70″X33″)
Propane Alde System
Induction Stove
MODEL: 2019 Roadtrek Zion
ZION
Your perfect bucket list companion
Built on the Ram ProMaster chassis and perfected by Roadtrek, the Zion is a versatile and luxurious coach that will have you fulfilling your bucket list locations in no time. The open concept floor plan allows you to pack all your outdoor adventure toys, from bikes to kayaks, there is plenty of room in the spacious center aisle. The beautifully designed interior, permanent bathroom, spacious galley, large refrigerator, comfortable sofa and bed and an abundant of storage makes the Zion the perfect coach for all your travel needs.
Exterior
The Zion is built on the unique and stylish Ram ProMaster chassis, giving you a rugged and refined exterior style combination. The sleek lines and beautiful large windows makes for a streamlined look and the many paint color options means you can choose the perfect look for your new Zion.
Features
•Clean and sleek exterior lines
•Beautiful exterior paint options
•Easily accessible hookups
•Retractable power awning
•Large windows with "peek through" vents for a beautiful and sleek look
•Exterior shower
Interior
The open concept layout of the Zion is ideal for transporting large sporting items such as bikes and kayaks and the enormous amount of storage space means you never have to leave anything behind. The beautiful, crisp pearl white and charcoal interior finish leave the coach feeling open and bright for an upscale look you are sure to love.
Features
•Exposed center aisle for storage of larger gaming and sporting items
•Galley features a 5.0 cu.ft. refrigerator, propane stove and microwave
•Interior permanent bathroom with shower
Automatic propane heating system
•Abundant interior storage including large under sofa drawers
Specifications
Starting MSRP $86,931.00, Base Model – Ram ProMaster, Seating Capacity – Five, Sleeping Capacity – Three, Fuel Type – Gasoline, Exterior Length 20′ 11″, Exterior Width (without mirrors) 6′ 11″, Interior Aisle Width 29″, Exterior Height (with roof AC) 9′ 5″, Interior Standing Height 6′ 2″, Wheelbase 159″, Gross Vehicle Weight Rating 9,350 lbs, Occupant & Cargo Carrying Capacity (1) 1,250 lbs, Gross Combined Weight Rating (2) 11,500 lbs, Towing – Tow Weight (3) 2000 lbs, Fresh Water Capacity 138L / 36.5 U,S, gal, Black Holding Tank Capacity 36.3L / 9.6 U.S. gal, Gray Holding Tank Capacity 88.9L / 23.5 U.S. gal, Storage Capacity (with options) 1,189 L / 42 cu.ft, Rear King Bed Size (width x length) 74″ x 76″, Front Single Bed Size – Right (width x length) 33″ x 70″
Chassis Warranty
5-year / 100,000-Mile Powertrain Limited Warranty covering the cost of repairs on all covered powertrain components – engine, transmission and drive system for most new Ram vehicles. 3-Year / 36,000-Mile Limited Warranty+ provides bumper-to-bumper coverage from the body to the electrical system. Refer to chassis manufacturers website for complete details.
1.Allowance for weight of occupants, water, propane and cargo. Reduce by weight of optional equipment.
2.GCWR includes total weight of vehicle, trailer, equipment, fuel, water, propane, cargo, driver and passengers.
3.Maximum towable weight with driver and fuel only. This weight reduced by weight of optional equipment, water, propane, cargo and/or passengers.
THE LISTED ITEMS ARE STANDARD ON THIS MODEL AT NO EXTRA CHARGE UNLESS REPLACED BY OPTIONAL EQUIPMENT.

Specifications are subject to change without notification.